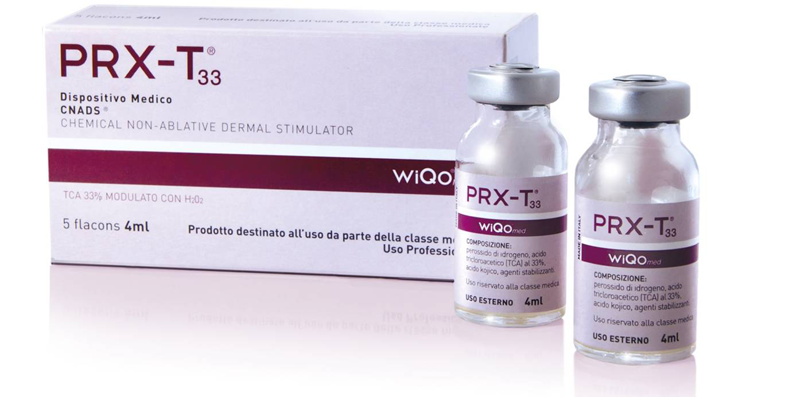 The PRX-T33 procedure stimulates skin renewal. It is intended for intensive skin renewal on the face, neck, décolleté area and hands, and it promotes the development of a new collagen framework. The result is an immediate lifting effect, improved skin turgor, smoother skin and narrower skin pores.
No rehabilitation is needed after the procedure – it is quick, painless and can be undergone any time of the year, as it is unaffected by seasonality.
What is TCA?
The combination of TCA or trichloroacetic acid at 33% concentration with hydrogen peroxide is a unique medical discovery. The PRX-T33 formula is internationally patented and CE certified. It operates on the cell level, ensuring a powerful biorevitalization effect without denaturation of the surface layer of skin. The 5% kojic acid included in the extraordinary formula whitens the skin and controls inflammation-induced hyperpigmentation.
Conditions prevented by the PRX-T33 procedure
Chrono- and photo-ageing
Atonic, flabby skin
Surface and deep wrinkles
"Smoker's" skin
Greasy skin with widened pores
Atrophic scarring
Hyperkeratosis
Hyperpigmentation
The procedure is not suited in the event of:
allergies to peeling components;
dermatites;
active-phase herpes;
pregnancy, lactation
The PRX-T33 peeling process
Before performing the procedure, a Nofrete salon specialist will consult you on the suitability of the procedure.
First, a make-up removal procedure is performed using a gel-based remedy. Skin is then carefully dried with a napkin. A few drops of the preparation are placed on the cleansed skin and massaged into the skin with light movements along massage lines until full absorption. Finally, the WiQo nourishing cream is applied.
In order to achieve the best results, further skincare is recommended at home:
Use the WiQo nourishing cream for the first 2-3 days following the peeling.
Every day after washing, use the multifunctional stimulator fluid and the WiQo cream. (Please note! Apply the fluid at least 30 min before applying the cream.)
PRX-T33 treatment schedule
4-6 procedures, 1 procedure per week. The preparation dosage per procedure is 1-2 ml.
Price: 65 EUR